Martel/Martell/Martelle
Harpers Ferry, IA & Wexford, IA

The tune that is being played is from the Scottish Highlands. It is Celtic in origin. As you read the following words of Mary Martelle, feel the mood of the music -- it seems to be appropriate I believe. The words to the music are in Gallic and English.
---
Mo Shuil Ad Dheidh!Mo Shuil Ad Dheidh!
Ochòin! Mo chailin, 's mo shùil a'd dhéigh;
A chailin, mo chailin, 's mo shùil a'd dhéigh;
A Lili, mo Lili, 's mo shùil a'd dhéigh;
Cha léir dhomh am bealach le sileadh nan deur.
Gu'n d' éirich mi mochthrath maduinn an dé,
'S gu'n ghearr mi'n ear-thalmhainn do bhrìgh mo sgéil;
An dùil gu'm faicinn-sa rùn mo chléibh;
Ochòin! Gu'm facas, 's a cùlaobh rium féin.
Na'm bitheadh siod agam, mo lùgh 's mo leum,
Mi'm shuidhe aig bealach 's mo chù air éill,
Gu'n deanainn-sa cogadh gu làidir treun
Mu'n leiginn mo leannan le fear tha do'n ghréin.
'S ann ormsa 'tha 'm mulad 's am fiabhrus mòr,
O'n chualas gun deach' thu le Brian òg;
Mo chomunn cha dean mi ri mnaoi 'san fheòil,
O'n rinn thu mo thréigsinn 's mi fhéin a bhi beò.
O! Chan eil uiseag 's na speuraibh àrd,
No ian anns an doire d'am b'eòl mo ghràdh
Nach eil nis ri tuireadh a dh' oidhche 's a là.
O'n chualas gu'n ghlacadh mo chailin air làmh.
Ochòin! Mo chailin, 's mo shùil a'd dhéigh...
Of Thee I Dream
Refrain
Horo, my cailin, of thee I dream
My cailin, dear cailin, of thee I dream
My own, my cailin, throughout the years
Dark is my pathway, bedimmed with tears.
I rose up early, ere dawn of day
And cut me the yarrow mid new-mown hay
To see by its magic my true-love dear
Alas I saw her, she turned from me.
O had I like others the strength of youth
My hound to follow, my path were smooth
Oh stark and grim is the fight I'd make
Ere I'd let man living my true-love take.
No lark is there in the meadows nigh
Nor bird in the forest that hears my sigh
But mourns now with me, both night and day
Since I and my true-love are parted, for aye.
Repeat Refrain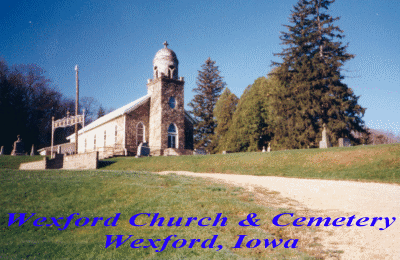 Echoes of the Prairies
by Mrs. John Clifford Martelle

On March 31st, 1843, came the French settlers by steamboat up the Mississippi river to settle on the prairies above Harpers Ferry, Taylor township, Allamakee county.
Joseph Cote, Sr., Peter La Tronche, Sr., and the three Martelle brothers, Alex, Chrystom and Baptiste, came up the Harpers slough from Old French-Town, the well known trading post of early days. It was located on the banks of the Mississippi river just three miles below Clayton, Iowa, of today. The post was owned and operated Charles La Tronche, Sr.,and the Platt and Barthelmi La Pointes, who were sole successors to Chevialier Marais in the Indian-traffic, after Marais returned to France in 1820, talking with him an Indian wife from the post.
Before the Cotes, La Tronches and Martelles came to French-Town they all lived around St. Joseph in North Dakota; very near the Canada line and what was then known as the Red River settlement.
Joseph Cote, Sr., was a brother-in-law of the Martelle brothers, they jointly purchased approximately two thousand acres of land on the prairies and up Bolger Hollow to the Bolger line. Their lands extended from almost the city limits of Harpers Perry north to the Oil Springs, where it joined with the La Tronche lands.
A cabin was built by the early La Tronches and Martelles on a little knoll known later as Cabin Hill. It's just a little below James Kernan's home today. It was built so the early missionaries could say mass there while going up or down the river. Then when Father Hoar and his little colony of Irish from Ireland came up the old river from Saint Louis, Mo., and landed at Heffern's landing on the 25th day of March, 1851. His first mass in the new country was in the cabin on Cabin Hill. Many of his people had to stay for a time with theFrench on the prairies to rest before going into the wilderness, of what is now Wexford parish. The Heatley family had to stay in the cabin as Grandpa Heatley was ill. He died in that cabin on the 14th of Aug., 1851. He wss grandfather of Ben Heatley who lives in Wexford today. His casket was made by the skilled hands of the La Tronches and Martelles. They were all very handy with the saw and hammer, as their descendants to this day are.
The Cotes and Martelles were very prosperous farmers in the early days, as well as trappers and hunters. They had their own threshing machine and many blooded horses. Baptiste Martelle was killed by that same threshing machine on Aug. 16, 1863, leaving his widow and three smile children namely: Denise, later Mrs. Joseph Valley; Josephine, later Mrs. Peter B. La Tronche, Jr., and David.
Joseph Cote married Mary Martelle an were the parents of Theodore, Joseph, Jr., John, Edward, Francis Xavier, Mary and Philomena.
Alex Martelle married Francis Josetta La Tronche and were Mary and Madeline Verdon's parents.
Chrystom Martelle married Josephine La Tronche, and were Gideon (Deo), Cyprian (Soup), Charles and Frank's parents.
Many of the descendants of these early settlers still live on the prairies. The Cotes and Martelles are there, but the La Tronche name vanished entirely from the old hunting grounds with the passing of Peter B. La Tronche in Harpers Ferry in 1940. Agnes Cote Conway, John, Bill and Martin Cote, grandchildren of Joseph Cote, Sr., are there. Nap Martelle, grandson of Chrystom Martelle, is still there on the prairies.
Nap Martelle's farm is known as the Touis Carta Dreux, which means a man's name, Louis Carta Dreux, a Frenchman, the real reason why Deo Martelle called his farm after this man is still a mystery.
The remaining descendants of these early settlers who are still living in Harpers Ferry are Peter Martelle, Mrs. Pauline Martelle Robinson, Mrs. Mattie Valley Boardman, Celena Valley Calvey, Ed., William, Martin and Bernard Valley, grandchildren of Baptiste Martelle; Mrs. Josie Martelle Traversey, Mrs. Inez Martelle Franks, Irvin Leo (Jake) and Joe Martelle, grandchildren of Chryatom Martelle; Mrs. Ida Cote Kelly and Deo Cote, grandchildren of Joseph, Cote, Sr.; William Shields, Don, Phil and Ben Gavin, and Mrs. Celia Gavin Cote, grandchildren of Peter La, Tronche, Sr.
There is no beauty in all of Texas, or any place else, that can surpass that of the towering bluffs, green prairie 'and the waters of the Mississippi above Harpers Ferry. The cool breezes that come down the Bolger and Dunn hollows on a hot summer evening, the ever-green trees that have now grown to a small forest on the peaceful prairies, the steps on the bluff sides, which ancient history tells us was done by the buffalo and other wild game grazing back and forth, the hanging rocks, that look like a picture printed by an artist's hand, and the little creek that starts at Bolger's and wends its course down, down to the mighty river, giving its cool waters to the many needs on its way. I have stopped and gazed with wonder, O' so often at the surrounding beauty of the hills, prairie and river, the parks and caves we hear and read so much about, have nothing on the prairies above Harpers Ferry, of which we hear so little; where the prairie sands kiss the river blue, and where the sunshine turns the prairie blue to gold.
Poets may dream of Yellowstone,
Of Chicago, Boulder Dam or the Rockies;
But the prairie above Harpers Ferry
Should have their dreams all running to rhyme.
The prairies where our forefathers settled,
When the Sioux, Winnebago and Cree roamed the west,
It's the land of peace and comfort,
And of all the lands, the prairies to me are best.